Hello and welcome to my portfolio website! My name is Ashley and I'm a HUGE UX nerd! In my rare but coveted free time, I enjoy watching animated movies, running, rock climbing, and reading absurdly long historical fiction / fantasy books.  Read on if you want to learn more!
Introduction:
I hope you will enjoy looking at some of my favorite projects from my time as UX Director at Fluid, a full service design agency based in Oakland, CA.  Last year, I moved to a position as a UX Design Manager at eBay Classifieds Group, Emerging Markets.  It has been a great opportunity to learn everything I can about the consumer to consumer marketplace, I'm glad I'm able to share some of the product work we have completed over the course of the last few years.
A little about me:
I have over 10 years of experience in Interaction and Experience Design with an extensive speciality in e-commerce design, and more recently real estate, and C2C (consumer to consumer) marketplaces. I strive to inspire the creation of simple, elegant and unique (but highly transactional) digital experiences that span mobile, tablet, desktop, kiosk, and everything in between. 
My day to day responsibilities include:

+ Managing and mentoring the experience design team to ensure that they feel loved, challenged, nurtured, and that their professional goals are being met.
+ Leading co-creation sessions, brainstorming, requirements gathering, providing thought leadership and design guidance, design strategy, and white-boarding with clients and internal team members.
+ Working with core team members to ensure the design, features, and functionality recommendations meets the needs of both the business and its customers.
+ Creating prototypes, briefs, storyboards, and scripts for user testing. Working with both external and internal research teams to gather qualitative insights from our users.  Providing design solutions based on test results.
+ Overseeing the creation of the day-to-day UX deliverables such as heuristics, persona's, user experience flows, taxonomy and metadata, wireframes, functional annotations, and prototypes. 
+ Providing UX consulting services, particularly in the areas of optimization for conversion and transactional (e-commerce) design.
+ Pitching, project proposals, UX estimating, and sales for potential clients and projects.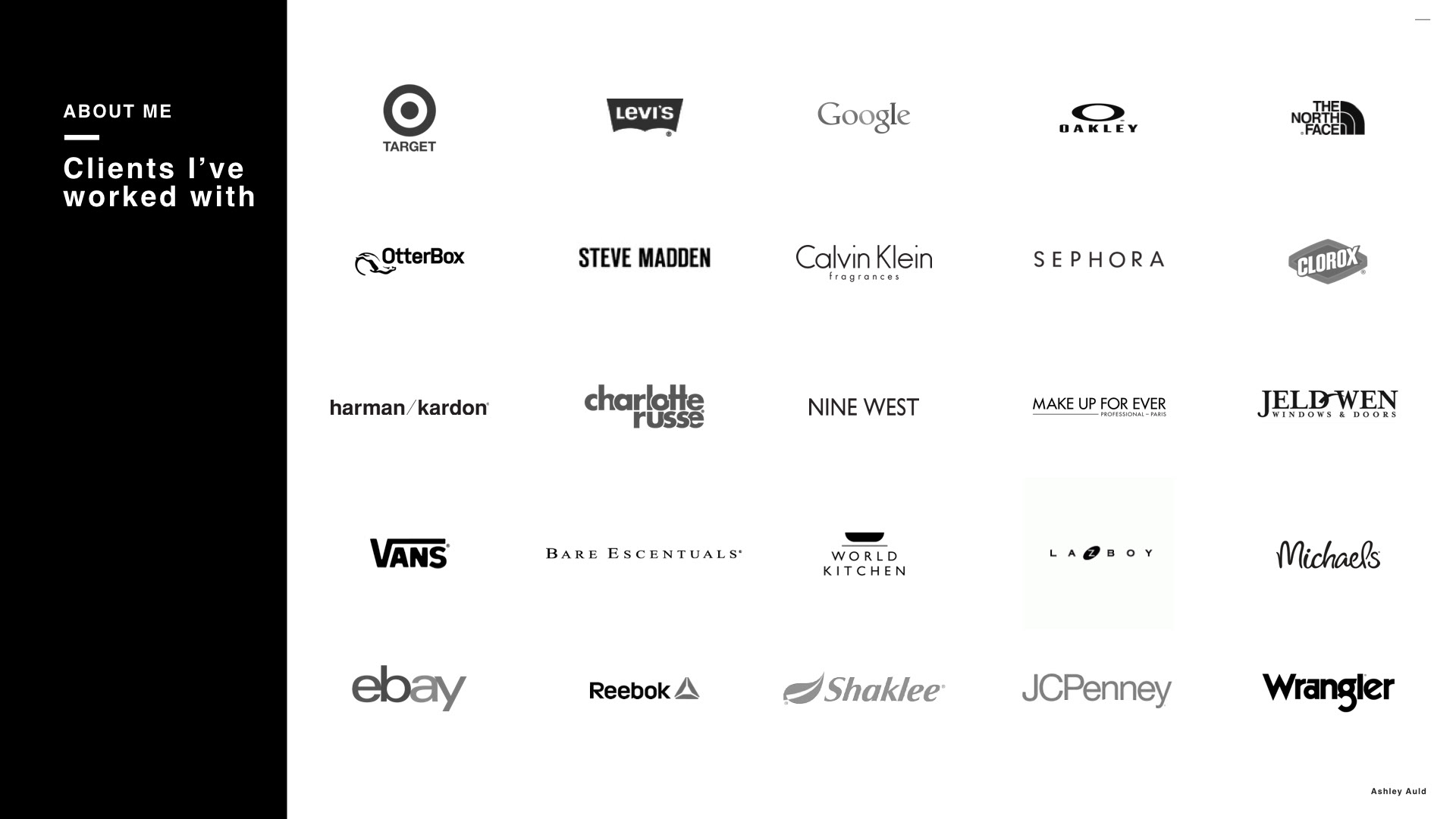 Clients:

When I was at Fluid, I worked on projects for more than 40 clients, including: eBay Classifieds Group, Target, Calvin Klein Fragrances, WB Shop, The North Face, JanSport, Wells Fargo, Oakley SI, Steve Madden, Reebok, Google, Levi's, Wrangler, Lucy, Clorox (Fresh Step, Brita, Pine-Sol), Otterbox, Michael's, Charlotte Russe, Make Up For Ever, JC Penny, JELD-WEN, Ebags, Bare Escentuals, Shaklee, La-Z-Boy, World Kitchen (Corelle, Corningware, Baker's Secret, etc), and more...
Now at Ebay, I manage a small product design team dedicated to creating the next generation customer experience for real estate in México and classifieds in South Africa.
Education:

I hold a BFA from the Rhode Island School of Design.
Hobbies:
Hiking, rock climbing (both in- and outside), running 5 and 10k's with my daughter and dog, drawing, painting, reading, cooking, and finding new and interesting ways to organize my life.  I also love waterskiing, which I have been doing since I was ten.