ABOUT MY ROLE
As UX Design Manager for Ebay Classifieds Group, Emerging Markets, I ensure all UX and product designs are executed in accordance with the product vision, meet the needs of our customers, and those of our business.  
I own, organize and manage all UEX and design initiatives, including qualitative research, wireframes, prototypes, taxonomy, usability, and final design polish.

Because our mission is in emerging markets, I work with a global team of product managers, engineers, analysts, and local market teams, with offices in México, South Africa, United States, and China.
THE STRATEGY
Historically, Vivanuncios was a C2C classifieds website (with a natural strength in real estate).  In late 2017, the business decided to pivot into becoming a full real estate vertical.  The product team was tasked with aligning the user experience to this new business objective, starting with the buyer experience.


UNDERSTANDING OUR CUSTOMERS
Before we could begin any design, we needed to better understand our real estate customers.  I led four extensive Jobs to Be Done (JTBD) studies to identify journeys for four key customer segments:
Using qualitative and quantitative research methods, we created and validated customer journey's detailing each segment's steps and needs. And determined key needs that they struggled to overcome.
SKETCHING AND BRAINSTORMING
Based on the research, we identified a key opportunity area of Vivanuncios:  To provide an interactive map-based search experience for our buyers and renters. (similar to Zillow or Trulia in the US).  Location data quality is a huge challenge in an immature market like México, which is why none of the other competitors have been able to do this well.
Together with product and tech, we brainstormed solutions and defined a rough sketch of the experience.
WIREFRAMES
Wires were created to quickly validate our design ideas with product, engineering, and to illustrate proposed solutions to stakeholders and get executive sign off.
PROTOTYPING & USABILITY TESTING
We tested with 10 users in Mexico to validate the map concept and comfort level with using a map as a way to find homes.
BUYER EXPERIENCE
The map experience went live in August 2018 and has continued to be fine tuned.  What you see is the result of 2 additional qualitative usability tests and months of rigorous A/B testing.  We are still refining it today.
In addition we optimized the Property Detail Page (PDP) to be more streamlined for a real estate experience consistent with our user's expectations and needs.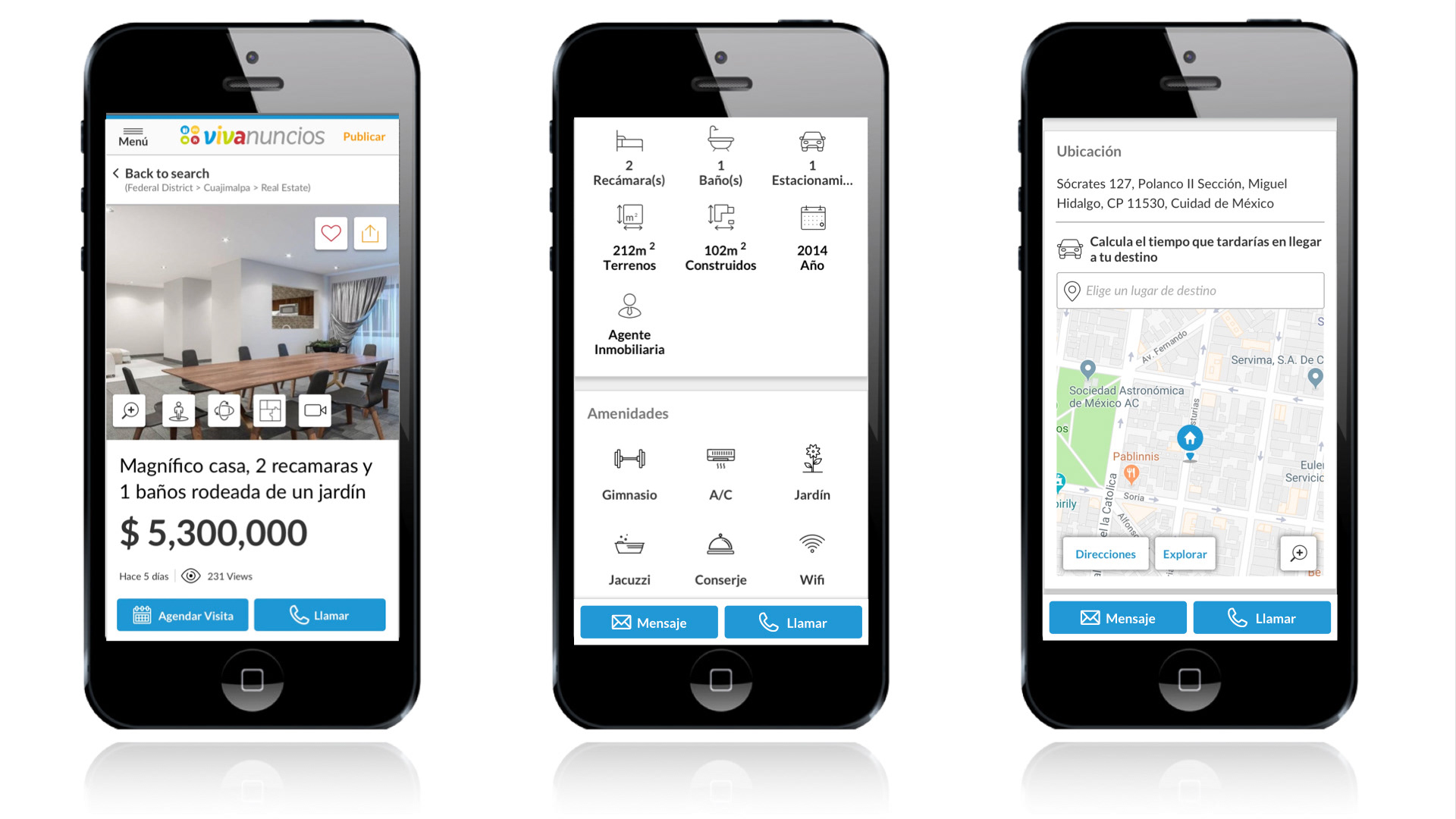 THE RESULTS
Both our buyers and sellers have responded well to the changes we have made to the product since we made the pivot to Real Estate in mid 2017. These stats were pulled in Q4 of 2018 and reflect YOY changes.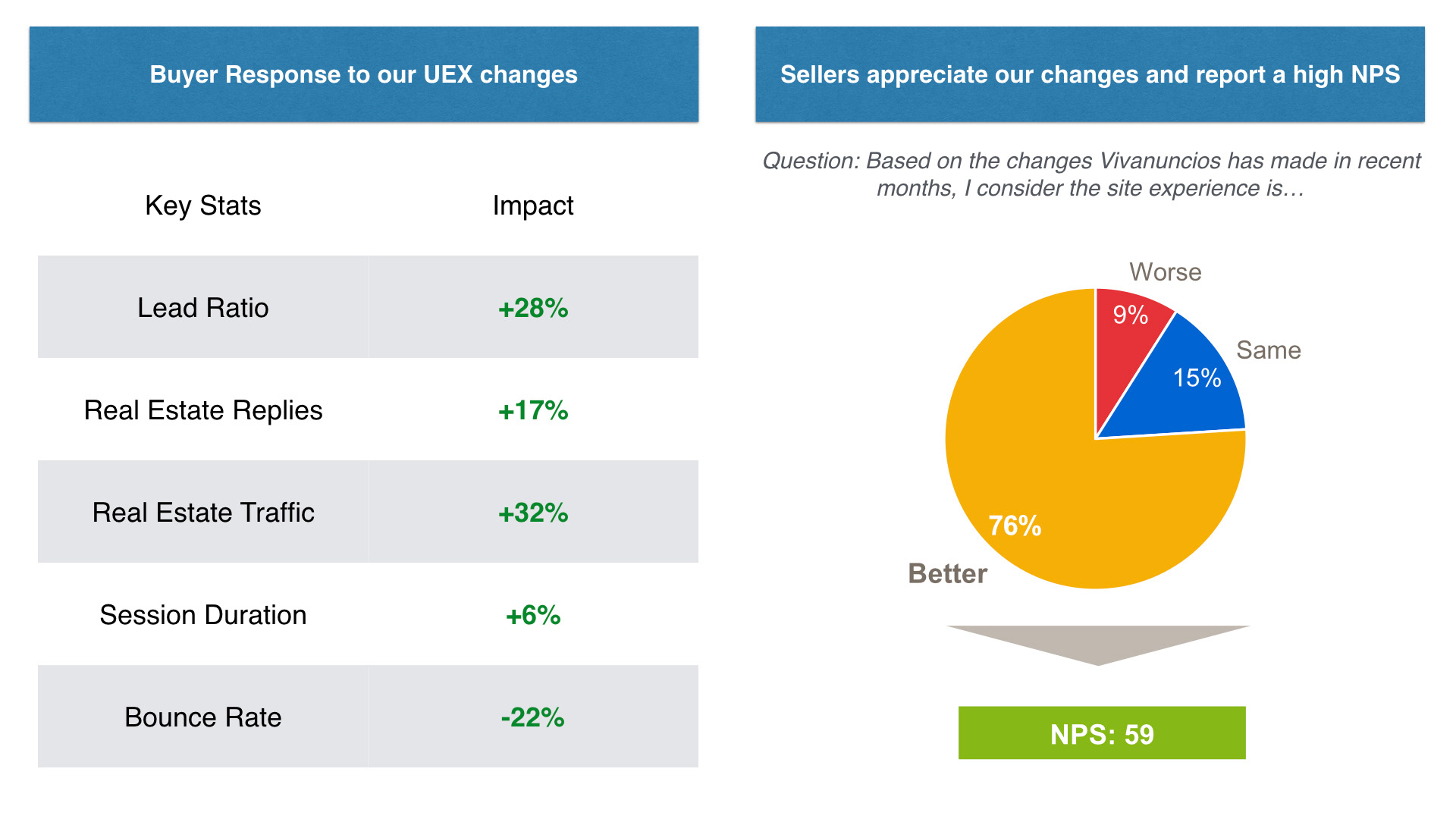 SELF-SERVICE INITIATIVE
Along with the buyer initiatives, we have been working on the seller experience.  Most recently (this year) we launched a self-service offering for agents who want to sign up for package offerings to post their listings on Vivanuncios on a subscription basis.